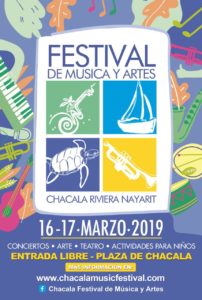 Saturday, March 16, 2019 at 6:45 pm (Chacala time)
Karen Bentley Pollick, violin
works by Bach, Bentley, Enescu and more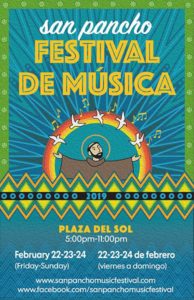 San Francisco, Nayarit
Plaza del Sol
Friday, February 22, 2019 @ 6:15 pm
Operatic Violin & Piano Duos
Violinist Karen Bentley Pollick teams up with pianist Oana Rusu Tomai, Artistic Director of the Romanian American Chamber Concerts in Seattle.
Ruggero Leoncavallo: Mattinata (arranged by Karen Bentley Pollick)
George Gershwin/Jascha Heifetz: Porgy & Bess Suite
Grigor Dinicu: Mocirita, March Hora, Romanian Rhapsody & The Lark
Manuel Ponce/Jascha Heifetz: Estrellita
Carlos Gardel/John Williams: Tango Por Una Cabeza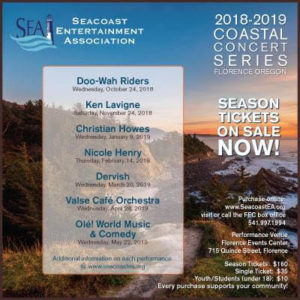 Wednesday, April 24, 2019 at 7:00 pm
6:15 pm pre concert talk
Valse Café Orchestra performs on Coastal Concert Series
Florence Events Center
715 Quince Street
Florence, Oregon
Seattle's Valse Café Orchestra originated with a singular goal: to win hearts with post-modern renditions of dance hall classics. Their eclectic repertoire celebrates a romantic mélange of bygone eras. Paris in the 30s, a mix of swing tunes, foxtrots, one step, two steps, polkas and tangos. There is something for everyone.
Wednesday, May 15 – Sunday, May 19, 2019
This year's featured work:
Gustav Mahler: Symphony No. 1 in D major
Please check back often to view our evolving plans!
Just Plain Folks Music Awards in Los Angeles, date TBA
Thrilled to receive 8 nominations in the 2017 Just Plain Folks Music Awards!
Experimental Song: Impossible Animals by David Aaron Jaffe on Wildlife, released by Well Tempered Productions.
Solo Instrumental Song: Born Free, No Torture, & No Slavery from Human Rights Suite on CD Peace Piece by Ole Saxe, released by Neptunus Records and Ariel Ventures.
Classical Vocal Album: Rosas de Pulpa, Rosas de Cal: Music of Valdo Sciammarella, including his CREDO for Piano Quartet. Ricardo Sciammarella, soprano Diane McNaron, released by Hoot/Wisdom Recordings of Florida Atlantic University.

Contemporary Classical Album: Russian Soulscapes: String Trio and Piano Quartet by Ivan Sokolov, with violist Basil Vendryes and cellist Richard Slavich. Engineering by Sam McGuire at Denver University, with post production by Brad Smalling of Evergroove Studio. Recorded in Colorado, released by Ariel Ventures.

Solo Instrumental Album: Peace Piece by Ole Saxe. Recorded in Sweden, Lithuania & Colorado with pianists Ivan Sokolov and Justas Servenikas, and guitarist Volkmar Zimmermann, released by Neptunus Records and Ariel Ventures.

Soundtrack Album: Wildlife by David Aaron Jaffe, released by Well Tempered Productions.
http://www.jpfolks.com/2017awards.php
TBA
Chapel of Good Shepherd Center Wayward Music Series
Seattle, Washington
Karen Bentley Pollick, violin
Ha-Yang Kim, cello
Žibuoklė Martinaitytė, piano
"In Search Of Lost Beauty…" (2016)
For violin, cello, piano, electronics and video
Concept, music and video by Žibuoklė Martinaitytė
"Beauty is the mystery of life. It is just not in the eye. It is in the mind. " (Agnes Martin)
"In Search of Lost Beauty…" (2016) is an hour-long sequence of audiovisual novellas on the elusive subject of beauty. Here the experience of time is slowed down as to transport us into an alternate dimension where the commonly apprehended reality is inverted into the otherworldly mystique of reflections and shadows. The amplitude of this ephemeral search for beauty encompasses phenomena found in nature, everyday life, and in art. There is no particular narrative or story visualized in the piece. It is rather an invitation to pay attention to commonly seen and familiar phenomenon, which one could call beautiful but often wouldn't bother to stop and take a closer look.
"In Search Of Beauty…" was born as a contradiction to an ever more increasing speed of our lives influenced by technology. So often people look at the illuminated screens of their devices rather than the surrounding world. This "search of beauty" gently induces to slow down our usual perception and ever-fastening mind, mostly operating in the mode of automatism, by bringing it to the current Moment of Being.
Parts: Prelude (subliminal), Blue, Ephemeral, Longings in Perpetual Motion, Interlude (transient), Serenity Diptychs, Shadows of Memories, Interlude (fleeting)."Je ne sais quoi", Inhabited Silences, Postlude (evanescent).